A Cat Cafe in Downtown Orlando

A Cat Cafe in Downtown Orlando
About Us
The Kitty Beautiful, downtown Orlando's cat cafe, is open again during the pandemic. We are operating limited hours, with a lower capacity, 12-6 Wednesdays to Sundays, closed Monday and Tuesday. Our food and drink menu is limited and we do require facemasks to enter. We are located at at 360 State Lane, right next to the Bank of America building.

For the most up to date information, follow us on Facebook. If you have questions please contact us at thekittybeautiful@gmail.com.
What is a cat cafe?
On one side, our cat cafe is just a regular place to get pastries, coffee, teas, freshly made organic juices, kombucha, locally sourced snacks and beer and wine. It's a place to bring your laptop and use free Wi-Fi while you enjoy a good morning pick me up. Order a drink from our friendly purristas. Or a place to unwind during a busy day.
But the other side of a cat cafe is that it is an attraction where cats can be watched and played with.
Patrons pay a small cover fee and go into a separate room to play with and hang out with a bunch of free roaming, fully adoptable cats.
The world's first cat cafe opened in Taiwan in 1998. A few years later, they started to open in Japan, which is where the concept took off. The concept spread to Europe and then to the United States in 2014. Cat cafes in the United States differ from those in many other countries with their focus on adoptions. So you can come down to a cat cafe, grab lunch or a snack, get a coffee, go play with cats, and if you fall in love, adopt them and take them home.
Cats
We host cats from our adoption partner, CATS CAN. All of our cats are spayed/neutered, tested for feline leukemia and feline aids; administered age appropriate vaccines, treated for parasites, and all microchipped. And they are adoptable!
Coffee
Coffees, tea, hand crafted sodas, freshly made organic juices, beer and wine, pastries and more! A great place for a quick drink or snack even without the cats. Featuring delicious fresh baked goods from Great Harvest Bakery!
Community
A place to come and relax, use the Wi-Fi, play a board game, borrow or leave a book from our library, and connect with people as well as felines. Cat Yoga, "mewvie nights," local artists and more.
Meet Our Cats
Our feline friends are our main attraction and are almost all available for adoption. We usually have around 10-15 cats at any time from our non-profit cat adoption partner, CATS CAN.
Trelaina

House Kitty!

Age: 1
Gender: Female

Bongo

House Kitty!

Age: 1
Gender: Male

Samson

Age: 1
Gender: Male
Arrived: 2/19
Bonded With Sawyer & Scout

Sawyer

Age: 1
Gender: Male
Arrived: 2/19
Bonded With Samson & Scout

Scout

Age: 1
Gender: Male
Arrived: 2/19
Bonded with Samson & Sawyer

Noodles

Age: 8 mo
Gender: Female
Arrived: 5/29
Bonded with Oodles

Oodles

Age: 8 mo
Gender: Female
Arrived: 5/29
Bonded with Noodles

Shanti

Age: 1
Gender: Female
Arrived: 6/22

Jaromir

Age: 5
Gender: Male
Arrived: 6/24

Emma

Age: 1
Gender: Female
Arrived: 7/2
"Cats are connoisseurs of comfort."

James Herriot

"The smallest feline is a masterpiece."

Leonardo da Vinci

"I have lived with several Zen masters - all of them cats."

Eckhart Tolle
Press
People are talking about The Kitty Beautiful.
Reservations
You can make reservations for cat time, Cat Yoga, and Mewvie Nights online. We recommend reservations on weekends as it tends to get busy. Or, become a member and receive free cat time each month, free drinks, discounts for additional cat time, free guest passes, and discounts on special events.
Reservations for Cat Time and Other Events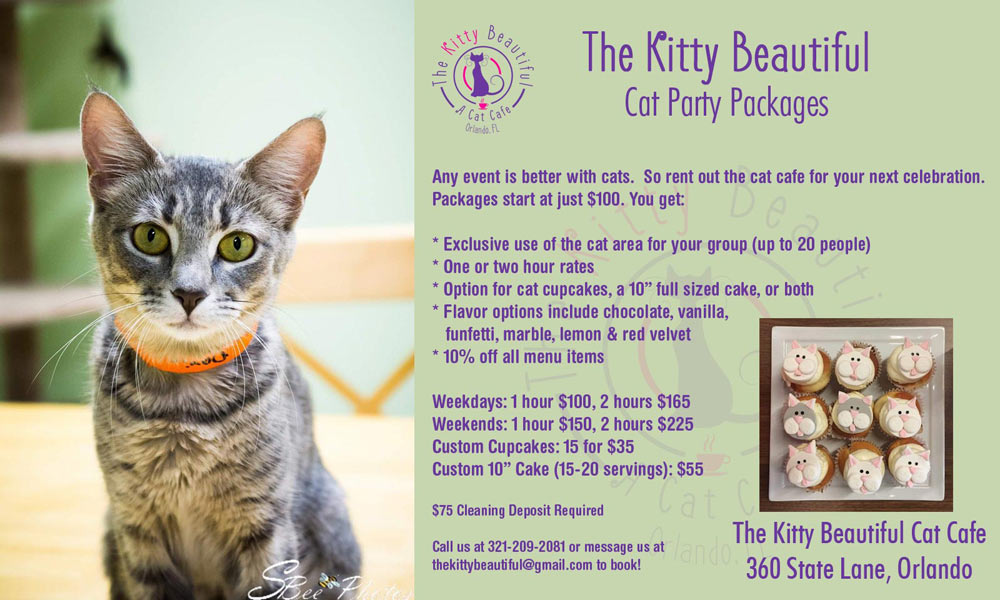 Contact Us
Get in touch with us!